WANT TO CHECK AVAILABILITY?
Yes! Our banquet hall is available for meetings, wedding receptions, baptisms, birthday parties, family reunions.

Big news! We just finished renovating our hall! We now have a new dance floor, new carpet, new tables and chairs. All to make it a better experience for you and your guests!
Our location is superb... close to Interstate 380, and within easy walking distance of several hotels. No need to worry about your guests driving after your party!
Our banquet hall rental rates are among the most reasonable in town.
Our banquet hall is large enough to have dinner AND dancing, without having to re-arrange everything.
Your rental fees help the VFW provide services to veterans.
Here's how the hall looked decorated for a recent wedding: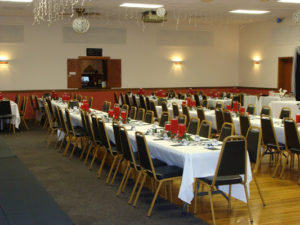 Frequently asked questions:
Does the VFW cater parties?
No, but you can hire any caterer you choose.
Can we use the kitchen?
Yes, you may use the kitchen to stage your menu items.
Can we use the grills/ovens/stovetops? 
For safety reasons, the use of these items is prohibited. 
Do you provide tablecloths? Table service?
No. You will want to discuss these things with your caterer.
Can we come in early to decorate?
Yes, if you arrange it with the VFW prior to the event.
How many people does the banquet hall hold?
Per fire department code, the hall can hold 211 people.
Can we bring in beer, drinks, pop?
No. These must be purchased from the VFW.
Can we have a beer keg for our party?
Yes, if you purchase it through the VFW. The cost is $200 per keg, and we need to know how many kegs are needed at least 2 weeks prior to the event.
How do we go about buying drinks?
There is a service window from the hall to the bar so the bartender can serve you.
You may also arrange to have a waitress at an additional charge.
Can we have a DJ or a band?
Yes. We have a stage where they can set up. 
How big is the dance floor?
The dance floor is 25' x 31'. 
MORE QUESTIONS? WANT TO CHECK AVAILABILITY?
Contact the Post during working hours or leave a message at 319-364-7752 or complete the Contact Us form on our Home Page.