Events in the Hall shown on our website are open to the public.
Events in the Lounge are for members only.
VFW Post 788 is now a Commemorative Partner with the United States of America Vietnam War Commemoration. As such we have on display at the post the Commemorative Partner flag. If you are a Vietnam Veteran and member of our post or you attended are Vietnam Commemorative luncheon in the spring of this year, please contact the post and leave your name and contact information as we now have the official Vietnam Veteran lapel pin, Vietnam War 50th Commemoration proclamation signed by the President and some Vietnam 50th Commemorative buttons for family and bumper stickers.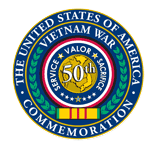 Who is eligible for membership? Here's the short version:
"The VFW welcomes all who meet our eligibility criteria. It's through service to this country that all our membership has earned their elite status.
"If you have received a campaign medal for overseas service; have served 30 consecutive or 60 non-consecutive days in Korea; or have ever received hostile fire or imminent danger pay, then you're eligible to join our ranks." --from the VFW.org site
Senior Vice Commander
Kevin Schindler
Junior Vice Commander
Curtis Goodrow
Quartermaster
Josh Conway
Service Officer
Harry Foster
House Committee Chairman
Lee Merta
Have a question? Suggestion? Item for the newsletter? Submit the form below.
Patrick J. Shanahan Post 788
Veterans of Foreign Wars
3240 Southgate Place SW
Cedar Rapids, IA 52404-5415
Every week in the Hall:
Palomino Band
Classic Country Music - $8 Cover
Every Thursday Night from 5:30 - 8:30 PM
Kitchen open for short orders 5-7 PM